Remember Saturday mornings? No school, nothing gloomy to do. All you had to do was sit back and enjoy your favorite bowl of cereal while watching your favorite cartoons. See if you remember these top 10 old cartoons.
1. Rugrats
Who didn't love the Rugrats?! Chuckie, Phil and Lil, Tommy Pickles… come on. And who could forget about Angelica, the girl who taught all us brats how to behave.
Running around in diapers and getting into mischievous situations might not seem cool to the kids now a days, but Rugrats will forever hold a special place in my heart.
---
2. CatDog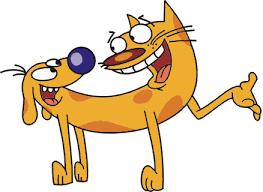 CATDOG. Yes! For some reason whenever I think of CatDog I automatically think of hot dogs… why I couldn't tell you. Could you even imagine owning a cat and dog combo?
It would be the best 2 for 1 special you ever spent your money on. Or.. could you imagine BEING a combined cat and dog? Think about it. Or just watch the show (I'd choose the second).
---
3. Johnny Bravo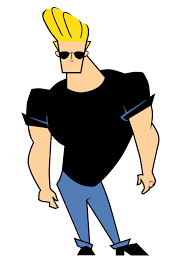 AWHHH MAMA! Johnny Bravo is too cool for school, or so he thinks.
Whether it's watching him fail at picking up chicks or looking dumb while showing off in public, this lovable loser made us all feel good about ourselves.
Don't ever change Johnny, don't ever change.
---
4. Dexters Laboratory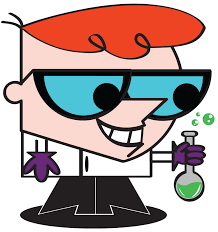 "Enter at your own peril, past the bolted door, where impossible things may happen that the world has never seen before. In Dexter's Laboratory, lives the smartest boy you've ever seen, but Dee Dee blows his experiments to smithereens. There is gloom, and doom while things go boom in Dexter's Lab!" 
Enough said. The intro sums up this show perfectly. Don't pretend like you never belted that last line before.
---
5. Angry Beavers
Norb (Norbert) and Dagg (Daggett) had a serious sibling rivalry going on.
In each episode it seemed they tried harder to out dothe other one and only succeeded at causing havoc in the woods.
---
6. Ed, Edd, 'n' Eddy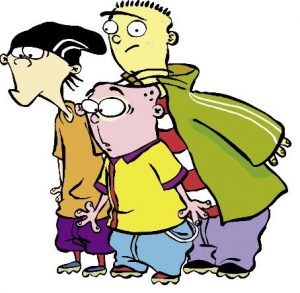 Jawbreaker anyone? Out of everyone on the show I might have to say that plank buddy is pretty high up on my fave character list.
Ed, Edd, 'n' Eddy loved to get into trouble without ever realizing that they we were in trouble.
The definition of knuckle heads and best friends till the end.
---
7. Beavis and Butt-head
The characters on this show (Beavis and Butt-head) might remind you of someone you currently know.
Totally oblivious to EVERYTHING, these metal heads just wanted to sit around and watch music videos all day.
Do you know anyone like this?
---
8. Rocko's Modern Life
He lived a fairly simple life. Normal job, normal house, pretty normal friends.
Yet somehow Rocko got himself into some of the strangest situations.
Also, we can't forget about all the weird sexual innuendos that went on in this show. Go take a look for yourself if you don't remember.
---
9. Powerpuff Girls
Sugar. Spice. And everything nice. Add a little chemical X and you've got a few badass crime fighting little divas.
No matter who tried to match up against these girls they always came out on top. Way to make a show that gives girls positive role models to look up to!
---
10. Rocket Power
Don't lie, you wanted to be a part of their gang. Sadly we were all just a couple of "shobies" watching these kids shred it up in paradise.
They made us all want to call up our friends and go get extreme outside… just right after we finished the episode of Rocket Power that we were watching.