Corruption , assaults , drug trafficking , arms trafficking and even murder – the biker gangs involved in many forms of crime. Recently, the State Strikes Back – more and more court cases. On their jackets you can see many skull patches. Their big motorcycles are symbols of the freedom, in the fights against other groups bikers are too much violent. Find out more at MikGLaw.com. Police are trying to oppose the implementation of large-scale raids bikers . Of course, there is a danger that a totally unnecessary citizens become victims of the conflict. When people think of bikers they most often think of big shaggy beards covered in road dust, leatcher jackets with a lot of badges on it. In this artcile you will learn about most dangereous motorcycle gangs in the world.
1 – Hell's Angels Motorcycle Club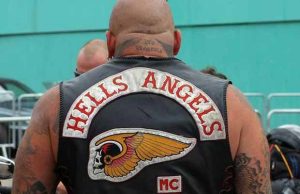 The most known biker gang. Hell's Angels base is in the USA, this biker gang have a long history on American roads. Hell's Angels are found  in 1940 in California. Their logo is a death's head, which is copied from the 85th Fighter Squadron and Medium Bomber Squadron. You can see red lettering over white background on their jackets, this group is involved in many publicized run-ins with the law and rival biker gangs. Often their conflict comes to death or serious injuries. Today you can meet Hell's Angel motoclubs all over the world. You can see their bikes in Alaska, Norway, South Africa, Argentina, Turkey, which is the first Muslim country in Hell's Angels.
Mongols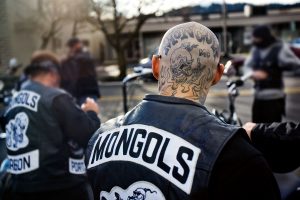 Mongol Nation, biker gang formed at 1969 ( California) On their jackets you can see only black and white colors and their mascot is bear, the Name Mongols in large black letters above a man riding a motorcycle wearing a vest and black sunglasses, you can see Mongols bases in Canada, Mexico and Italy.
In early 2008, agents have infiltrated their group in order to launch an investigation into the activities, result was 38 arrests, most popular name was Ruben Cavoz who was leader of this gang.The Mongols MC are now prohibited by law from the use of the Mongol MC logo and they cannot wear the patches on vests or any other garb.
.
Pagans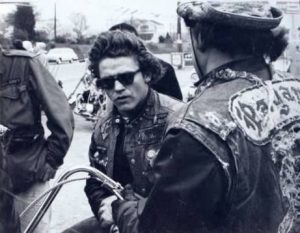 They are formed in Maryland in 1959, this gang had expanded very quickly. Their patch depicts the Norse fire giant Surtr sitting on the sun wielding a sword with the word Pagans in red, white and blue. Members wears their logo on cut off denim black jackets with Nazi patches. They also have a lot of tattoos with letters ARGO and NUNYA. Pagans territory is east coast in the United States. Hell's Angels are atwar against Pagans, the pagans are connected with crimes, drug smuggling and they are in deal with organized crimes. Many members of Pagans are arrested in Long Island because of violence and tattoos. Often you can hear about fights with Hell's Angels resulting with strong wounds and even with murder. In 2005 Pagans killed Vice- President of Philadelphia.