These celebs struggle with their weight – just as we normal people do – but the difference is, they are judged for how much weight they gain or lose.
Val Kilmer 1986 vs Val Kilmer 2012

Val Kilmer is most notably known for Top Gun (1986) and Batman Forever (1995). The once chiseled hunk has experienced weight fluctuations pretty much as long as he has been in the public eye. Kilmer recently experienced a health issue that was reportedly a throat tumor, although Kilmer denies this.
Note to self: use "throat tumor" as an excuse for chin rolls. The 55 year old's acting career is currently on hiatus while he returns to good health from his not-tumor.
Britney Spears 2001 vs Britney Spears 2009
Ah, Britney. You've had two kids. You've been in the public eye since 1993. You're almost 34 years old. You've suffered from mental instability and mental health issues. How dare you not be the muscled twig you were at 20?
Maybe you missed the memo, but 33 year old women are required to maintain the exactphysique they boasted at 20, especially if you are in the public eye. Everyone knows real life circumstances don't apply to famous people! Get it together, Brit.
Alec Baldwin 1994 vs Alec Baldwin 2012
Alec Baldwin is the most well known of the four Baldwin brother actors. Baldwin is also the male performer with the most Screen Actors Guild awards, thanks to his role as Jack Donaghy on NBC's 30 Rock.
His highly successful acting career, Spanish yoga instructor wife, and two thriving children tell me he couldn't care less about a few extra pounds. However, he should probably avoid paparazzi when he's eating as a general rule.
Kirstie Alley 1989 vs Kirstie Alley 2009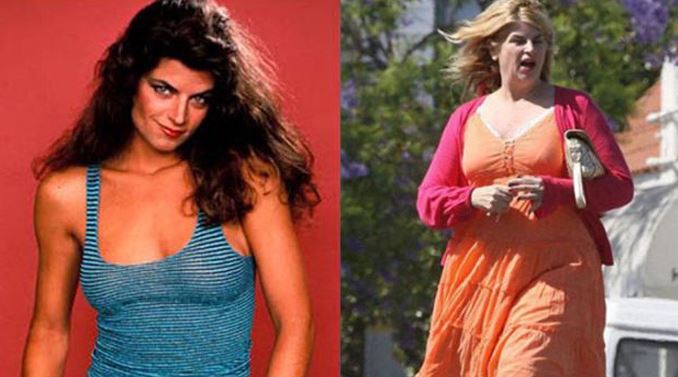 Kirstie Alley's most distinguished part was as Rebecca Howe on Cheers from 1987-1993. Alley now boasts second place on the 2011 season of Dancing with the Stars, so clearly the weight is holding her back. Her weight has fluctuated for years and she is currently on the thinner side.
Ms. Alley has had a pretty steady acting career over the years, earning a Golden Globe and two Emmy's early on. I'm sure she sits around crying about her weight as she holds her awards. Fun fact: Alley was married to her "distant" cousin for 7 years.
Jessica Simpson 2005 vs Jessica Simpson 2011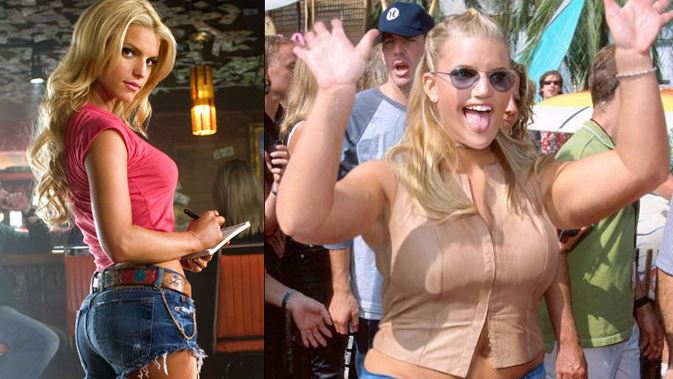 Jessica Simpson, a 34 year old mother of two has had weight problems off and on. Before I criticize her, I'm forced to take note that Simpson's dating history boasts Nick Lachey, John Mayer, Tony Romo, and she is now happily married to former NFL tight end Eric Johnson, the father of her two babies.
Considering my own dating history, I think I'll keep my mouth shut. You do you, girl. It's clearly workin'.
Janet Jackson 2001 vs Janet Jackson 2006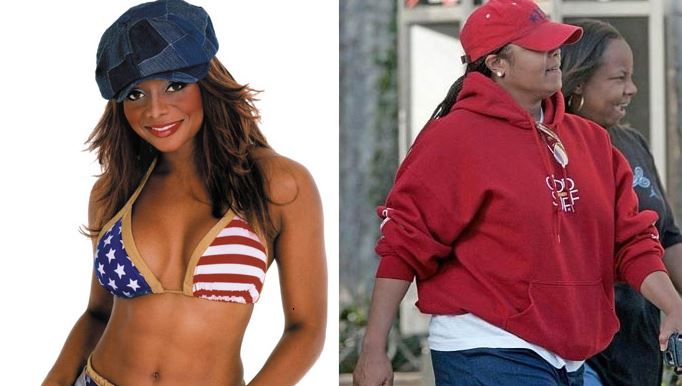 Janet Jackson's svelte six pack appears to be long gone. What also appears to be gone are the days when Jackson cared about public opinion of her. She rarely comes out of the public eye, and when she does its to support her billionaire fashion tycoon husband. The talented Jackson sister is no longer producing hit albums.
No one is really sure that she is doing, as she only appears in public sporadically, with no interviews or comments.
Kelly Clarkson 2002 vs Kelly Clarkson 2011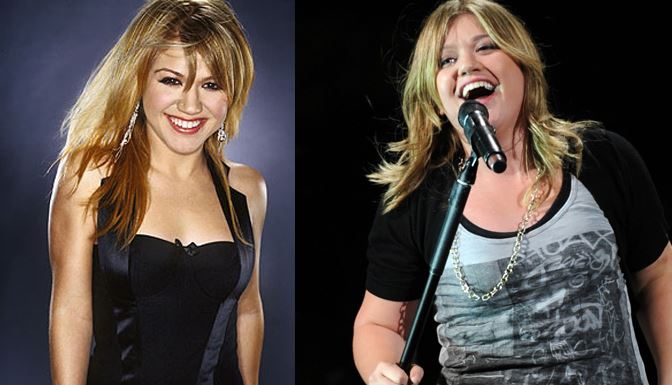 The most successful American Idol alum by far, Kelly Clarkson has become America's sweetheart. Clarkson is married to talent manager Brandon Blackstock, with whom she has a baby girl. While she's been out and about promoting her new album, Piece by Piece, Kelly was criticized by TV personality Katie Hopkins for her weight.
Everyone and their mom has taken the opportunity to attack Hopkins for fat shaming. So, with that I say, lookin' good Kelly! Love the new album.
Steven Seagal 1990 vs Steven Seagal 2013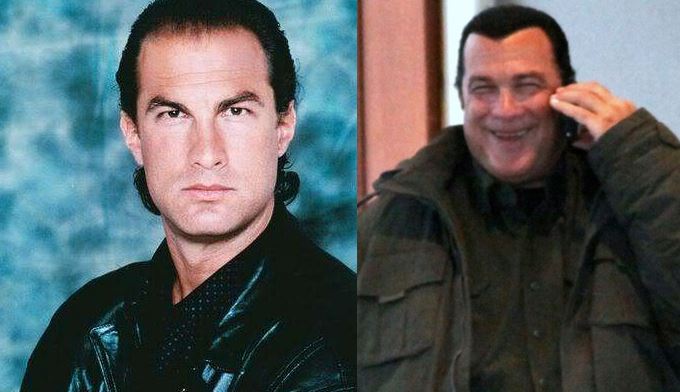 The 62 year old actor known for his action movies has gained weight steadily for years. Researching Steven Seagal is the definition of following a disappearing lead. You can look for yourself, but basically, Seagal is a compulsive liar. Who knows the reason behind the (fake) black belt's weight gain, maybe Seagal is eating his words.
He's also a terrible person, having had two sex slaves, and driven a tank into a house and killing a puppy and 115 chickens that he was there to "rescue". That is actually true. Moving on!
Marlon Brando 1951 vs Marlon Brando 2003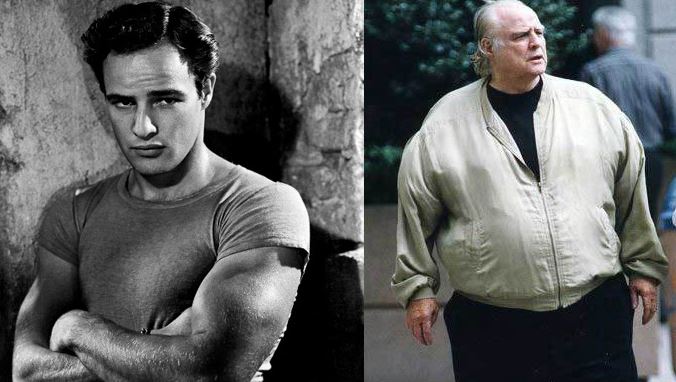 The Godfather not only in film, but of film as well. Marlon Brando boasts two Oscars (The Godfather and On the Waterfront), but the last few films of his career were rather duds.
He was infamous for not only his size, but his eating habits to boot. Brando would reportedly eat gallons of ice cream, two chickens in one sitting, the list goes on and on. Its pretty clear that toward the end of his long life (1924 – 2004) he just did not give a crap.
John Travolta 1983 vs John Travolta 2012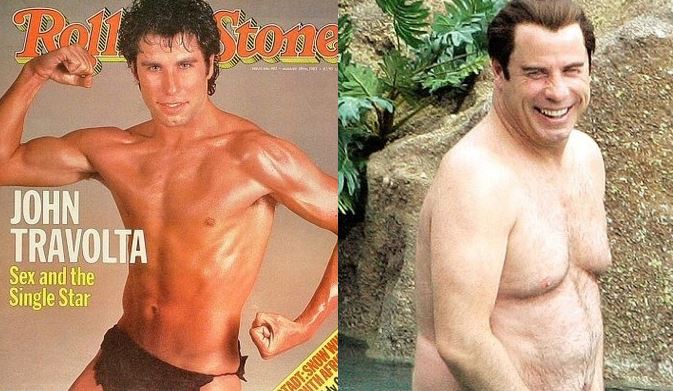 From the greased lightning on the left, to the average – yet slightly creepy – dad-shape on the right. Travolta has stayed in the public eye pretty steadily over the years, and his career has been on a relatively steady – if slightly underwhelming – path as well.
Hairspray was his last real block buster in 2007. Maybe his acting career isn't as impressive as it has been in the past, but his hairline seems to have actually creeped down his head a little, so there's a silver(or should I say, died black) lining there.